A fifth-grade magnificence in Michigan determined to jot down letters of encouragement to a soccer participant from the College of Michigan who was once despatched a malicious e mail following a sport.
The participant, extensive receiver Ronnie Bell, was once despatched the e-mail after he dropped a game-tying move within the college's 21-21 loss to Penn State on Saturday. The e-mail was once despatched to Bell from every other Michigan scholar, recognized as Connor Grady. The message went viral after Bell's father, Aaron Bell, shared it on social media.
"Please hand over the crew already. Completely unhappy that my tuition is going to paying for the scholarship for the sort of scrub a** participant such as you. Bum a**. Cross play basketball someplace. Please do us all a choose and not play soccer once more," Grady mentioned in his e mail to Bell.
When sharing the message to Fb, Aaron Bell took intention at the ones criticizing his son, writing, "Other folks, when you've got the rest to mention concerning the ultimate offensive play DIRECTED at my son, please communicate to me. I will be very happy to take a seat down and communicate PARENT TO FAN."
Aaron Bell didn't seem to grasp who despatched his son the e-mail, including that if any individual studying his submit knew who composed the letter will have to inspire the sender to message him so they may pass to lunch and communicate. "Those children are taking part in onerous as hell. No reason why to achieve out and communicate like this. You might be extraordinarily infantile for this. So please touch me, we will sit down down PARENT to FAN!!," Aaron wrote.
Bethany Tomasek, a former Michigan scholar and Wolverines fan, noticed the e-mail and discovered she may just use it as a instructing instrument for her scholars at Huntington Fundamental College.
Consistent with the Detroit Unfastened Press, Tomasek arrange a "kindness board, the place scholars can write every different notes" in her lecture room. Her fifth-grade magnificence may be lately studying a ebook titled Marvel, "and the entire theme of the ebook is, we select type," she informed the newspaper.
Tomasek held a category dialogue that specialize in errors and the way her scholars can develop from them. In a while, the scholars wrote letters of encouragement to Bell, however are nonetheless within the means of sending them to him.
"Do not concentrate to other folks on the web. I feel you're superb at sports activities!" mentioned one scholar.
"WR is an overly onerous place. Put your previous in the back of you and concentrate on the long run do not concentrate to the haters," wrote every other scholar.
The e-mail additionally sparked many reactions throughout social media.
"In enhance of Ronnie Bell, whoever goes to the sport this weekend on his 1st catch of the sport everybody will have to get up and cheer display him that we were given his again it doesn't matter what," mentioned one twitter consumer.
NFL insider, Wealthy Eisen tweeted "Whats up Ronnie Bell – stay your chin up! So much extra soccer to be performed and so much extra mountains to height! All a part of the adventure #GoBlue"
Grady has since apologized to Bell for the e-mail.
"I've privately apologized to Mr. Bell, and I've additionally apologized publicly to the Bell circle of relatives," Grady mentioned when reached by means of the Related Press. "I'm deeply sorry to have introduced disgrace and embarrassment to the Michigan neighborhood, and I am hoping that the neighborhood can forgive me for such unbecoming habits."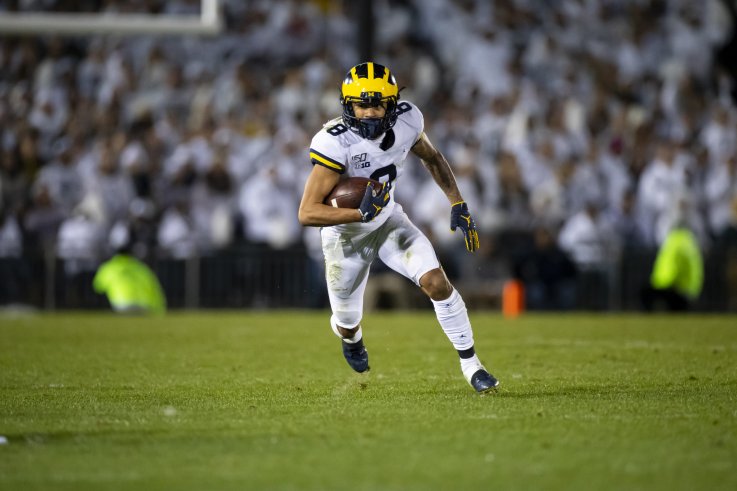 if(site_ads){
googletag.cmd.push(serve as () {
googletag.pubads().addEventListener('impressionViewable', serve as (tournament) {
var pos=tournament.slot.getSlotElementId().break up("-")[2];
nw_log('Viewable impact', tournament.slot.getAdUnitPath(), pos);
if(rf-1))){
var adrf = setTimeout(serve as(){
if(window.setDfpRefreshKV) setDfpRefreshKV();
nw_log('prebid_refresh', pos);
if (typeof apstag !== 'undefined') {
for(var i=0;i<amzSlotCfg.size;i++) if(amzSlotCfg[i].slotID=="dfp-ad-"+pos) spoil;
apstag.fetchBids(slots:[amzSlotCfg[i]],
serve as(bids)
apstag.setDisplayBids();
pbjs.que.push(serve as()
pbjs.requestBids(
timeout: PREBID_TIMEOUT,
adUnitCodes: ['dfp-ad-'+pos],
bidsBackHandler: serve as()
pbjs.setTargetingForGPTAsync(['dfp-ad-'+pos]);
googletag.pubads().refresh([googletag.slots[pos]]);
rf++;
nwsetCookie("rf", rf, 24);
);
);
);
} else
pbjs.que.push(serve as()
pbjs.requestBids(
timeout: PREBID_TIMEOUT,
adUnitCodes: ['dfp-ad-'+pos],
bidsBackHandler: serve as()
pbjs.setTargetingForGPTAsync(['dfp-ad-'+pos]);
googletag.pubads().refresh([googletag.slots[pos]]);
);
);
}, 30000);
}
});
});
transfer(ibtmedia_device){
case "cell":
/* RevContent &&dfp_cat!='nwus-culture'&&dfp_cat!='nwus-us'*/
if(site_ads) fqtag.cmd.push(serve as(){
var rcel = file.createElement("script");
serve as ad_block_test(e,o){if("undefined"!=typeof file.physique)var t="0.1.2-dev",o=o?o:"sponsorText",n=file.createElement("DIV");n.identity=o,n.taste.place="absolute",n.taste.left="-999px",n.appendChild(file.createTextNode("?")),file.physique.appendChild(n),setTimeout(serve as()if(n)var o=0==n.clientHeight;trycatch(d)console&&console.log&&console.log("ad-block-test error",d)e(o,t),file.physique.removeChild(n),175)}
ad_block_test(serve as(is_blocked));
});
/*MGID*/
if(site_ads) fqtag.cmd.push(serve as(){
(serve as() var D=new Date(),d=most sensible.file,b='physique',ce='createElement',ac='appendChild',st='taste',ds='show',n='none',gi='getElementById',lp=d.location.protocol,wp=lp.indexOf('http')==0?lp:'https:';
/*if(dfp_cat=='nwus-culture')();
});
spoil;
case "pill":
/* RevContent &&dfp_cat!='nwus-culture'&&dfp_cat!='nwus-us'*/
if(site_ads) fqtag.cmd.push(serve as(){
var rcel = file.createElement("script");
serve as ad_block_test(e,o){if("undefined"!=typeof file.physique)var t="0.1.2-dev",o=o?o:"sponsorText",n=file.createElement("DIV");n.identity=o,n.taste.place="absolute",n.taste.left="-999px",n.appendChild(file.createTextNode("?")),file.physique.appendChild(n),setTimeout(serve as()if(n)var o=0==n.clientHeight;trycatch(d)console&&console.log&&console.log("ad-block-test error",d)e(o,t),file.physique.removeChild(n),175)}
ad_block_test(serve as(is_blocked));
});
/*MGID*/
if(site_ads) fqtag.cmd.push(serve as(){
(serve as()dfp_cat=='nwus-us')
var mgid=712929;var a=d.getElementById("block-ibtmedia-dfp-ibtmedia-dfp-belowcontent").innerHTML='
';
else */
var mgid=712620;var a=d.getElementsByClassName("article-body")[0],g=a.childNodes;if(g.size==1)g=g[0].childNodes;var pg=0,c=d.createElement("div");c.identity="M412698ScriptRootC"+mgid;c.innerHTML='
Loading…
';for(idx=g.length-1;idx>0;idx–) if(g[idx].nodeName=='P') pg++; if(pg==2) g[idx].parentNode.insertBefore(c,g[idx]); spoil;
/**/
var i=d[ce]('iframe');i[st][ds]=n;d[gi]("M412698ScriptRootC"+mgid)[ac](i);tryvar iw=i.contentWindow.file;iw.open();iw.writeln("");iw.shut();var c=iw[b]; catch(e)var iw=d;var c=d[gi]("M412698ScriptRootC"+mgid);var dv=iw[ce]('div');dv.identity="MG_ID";dv[st][ds]=n;dv.innerHTML=mgid;c[ac](dv); var s=iw[ce]('script');s.async='async';s.defer='defer';s.charset='utf-8′;s.src=wp+"//jsc.mgid.com/n/e/newsweek.com."+mgid+".js?t="+D.getUTCFullYear()+D.getUTCMonth()+D.getUTCDate()+D.getUTCHours();c[ac](s);
)();
});
spoil;
default:
/* RevContent &&dfp_cat!='nwus-culture'&&dfp_cat!='nwus-us'*/
if(site_ads) fqtag.cmd.push(serve as(){
var rcel = file.createElement("script");
serve as ad_block_test(e,o){if("undefined"!=typeof file.physique)var t="0.1.2-dev",o=o?o:"sponsorText",n=file.createElement("DIV");n.identity=o,n.taste.place="absolute",n.taste.left="-999px",n.appendChild(file.createTextNode("?")),file.physique.appendChild(n),setTimeout(serve as()if(n)var o=0==n.clientHeight;trycatch(d)console&&console.log&&console.log("ad-block-test error",d)e(o,t),file.physique.removeChild(n),175)}
ad_block_test(serve as(is_blocked));
});
/*MGID*/
if(site_ads) fqtag.cmd.push(serve as(){
(serve as() var D=new Date(),d=most sensible.file,b='physique',ce='createElement',ac='appendChild',st='taste',ds='show',n='none',gi='getElementById',lp=d.location.protocol,wp=lp.indexOf('http')==0?lp:'https:';
/*if(dfp_cat=='nwus-culture')();
});
}}
(serve as (d, s, identity)
var js, fjs = d.getElementsByTagName(s)[0];
if (d.getElementById(identity))go back;
js = d.createElement(s);
js.identity = identity;
js.src = "https://attach.fb.internet/en_US/sdk.js#xfbml=1&appId=245537789135954&model=v3.3";
fjs.parentNode.insertBefore(js, fjs)
(file, 'script', 'facebook-jssdk'));



Supply hyperlink