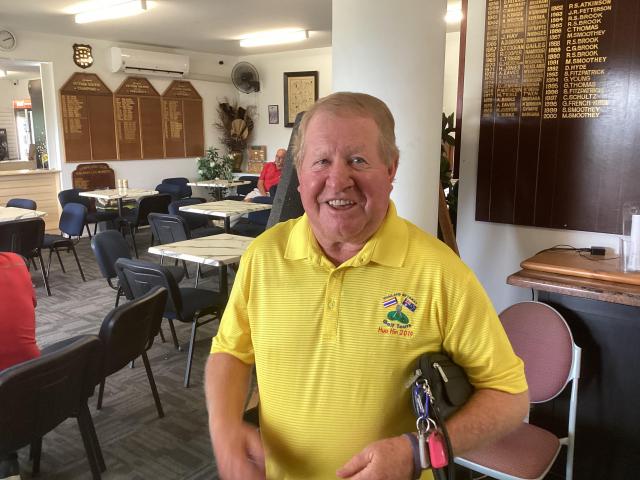 Terry Donoughue was B Grade winner for the Gympie Golf Vets at their Month-to-month Medal contest on 4 January. Terry was additionally the winner of the 'Pink Shirt'. Yoey Coogan
Welcome to 2022 – hope you haven't damaged your New Yr resolutions but!
On 4 January 68 Gympie Golf Membership Vets, a member from Mt Tamborine (the biro stealer) and 4 children all took to the course.
The group performed their first Monthy Medal for the yr with A Grade winner Lindsay B Taylor scoring 71 internet, adopted carefully by Steven James on 72 on a rely again to Ian Horley.
The B Grade winner was Terry Donoughue on a unbelievable rating of 69.
Terry can be the winner of the "Pink Shirt" – nicely finished Terry.
The B Grade runner up was Jeff "Hubcaps" Hudgson with 72 on a rely again to Peter Love.
The C Grade winner was Phil Barry on 71 on a rely again to Mick King adopted carefully by Geoff Schuh on 72.
The ball rundown went to 74.
Pin pictures had been received by: A Grade seventeenth Steven James, B Grade third Keith Johnson who shared the prize with Peter Love, and C Grade sixth Geoff "Mash" Barling. Open Pin on the sixteenth was received by Rob Nichols.
The Accuracy Drive was received by Invoice McNaught – Sorry Mr Cunningham it's an accuracy drive, not a second shot hit.
The ball within the pink bag was received by Wayne Prepare dinner and the Placing Comp was received by Russell Ashby.
The Wild Draw Card didn't go off so jackpots to $60 for Tuesday 11 January.
On 17 January the Vets will go to Peregian – sorry women we aren't welcome.
Nomination Types are within the Members Room.
On 24 January the Vets will go to Cooroy.
PLEASE NOTE: The 18 January match will now be a single stableford.
Pelican Waters have requested that they go to us on today.
This isn't an official host day, however they're having bother getting on their very own course.
Blissful hitting.